Acadia National Park is a special place, and is rightfully known as the "crown jewel of the north Atlantic coast." Planning a visit? Even if you only have 2 days in Acadia National Park, this Acadia blog post will show you how to make the best of your time in the park!
This post may contain affiliate links. This means I'll get a commission (at no extra cost to you!) if you purchase through my link. Please see my Disclosure page for more information.
I've been in love with New England for as long as I can remember, and specifically, the coast of Maine. Whenever I've thought of Maine I always imagine picturesque lighthouses, rugged coasts, and of course, gorgeous, dramatic colors in the fall.
And Maine does not disappoint! The coastline is gorgeous and the lighthouses are adorable. Acadia National Park is very different from the California national parks I'm used to visiting, but it's no less stunning. Visiting Acadia is a must if you want to spend 2 or 3 perfect days in Maine.
While I could spend weeks in this part of the country, there's plenty to do even if you only have 2 or 3 days in Acadia National Park.
Below I've shared some of the best things to do in Acadia National Park if you only have a few days, recommendations on where to stay, where to eat, and what to see. This is what worked for me when I was planning a trip to Acadia National Park!
What You Should Know Before Your Acadia Travel Trip
Before we get to the fun stuff, there's some basic information you should know about the park, including how to get there, what the fees are, and all the best tips that will make your Acadia National Park trip planning much more easier.
Location: Acadia National Park is mostly located in Mount Desert Island, in the northern coast of Maine, about 50 miles east of Bangor, and 264 miles north of Boston. There are also smaller parts of the park that are located in the Schoodic Peninsula on the mainland, and a small portion in Isle au Haut, a small island off the coastline. All of the activities below are located in the Mount Desert Island part of the park.
How to Get There: Coming from California, we flew into the Portland, Maine airport, rented a car and drove up almost 3 hours north to Acadia. Major airline carriers will also fly into the Bangor airport, about 1 hour from the park. From Boston, you can fly into the Hancock County airport, putting you about 10 minutes from the park. From the Hancock County airport you can take the Island Explorer shuttle, which will give you easy access to many hotels in Bar Harbor, campgrounds at the park, etc.
How Many Days for Acadia National Park: The average stay at Acadia is 3-4 days, but there's a ton you can do with only 2 days in Acadia, so don't stress if you only have a short weekend to spend here. You'll want to return to visit Acadia anyway, so leave something for your next visit.
Mount Desert Island: Most of Acadia is located on Mount Desert Island, especially on the east side of the Island. You can also find Bar Harbor, a picturesque New England town on Mount Desert Island as well. It's very easy to get from Bar Harbor to Acadia National Park, requiring a very short drive or shuttle ride, making it an incredibly popular (and convenient) place to stay when visiting Acadia.
Tip: It's pronounced Mount Dessert, not Mount Desert. Something to do with the original French pronunciation of the island name.
Entrance Fee: There's a $30 per vehicle park entrance fee that's valid for seven (7) days – this covers everyone in one vehicle. If using the shuttle or biking to the park, there's a $15 per person that applies. If you'll be visiting a couple of national parks, I strongly recommend you buy a National Parks' annual pass. It's only $80 and gives you free admission to all national parks for one whole year.
Entrances: Depending on what you plan to visit first, there's several different entrance stations to the park. Coming on highway 3 from Bangor, the first entrance station you'll encounter will be the Hull's Cove entrance. There's also the Cadillac Mountain entrance, the San Beach entrance, the Sieur de Monts entrance, and the Stanley Brook entrance. Whatever entrance you use doesn't really matter, instead map yourself to whatever destination you're visiting and you'll probably encounter an entrance station at some point.
Weather: due to its close proximity to the water, the weather in Acadia National Park is pretty mild compared to inland Maine. Rain is common throughout the year, and fog is common during the summer months (June through September). Summer temperatures hover anywhere between 45 degrees fahrenheit to 90 degrees fahrenheit, so it's important you pack layers. Fall (and spring!) weather on average hovers between 30 degrees fahrenheit to 70 degrees fahrenheit. Winter weather is much more extreme, with temperatures on average below freezing, between 14 degrees fahrenheit to 35 degrees fahrenheit.
Best Time to Visit: for the best weather, and smaller crowds, I recommend visiting in the shoulder season, between September to October, for cool but not freezing weather, and for a chance to catch the beautiful fall colors. During the winter months, the main road through the park closes due to snow, so I don't recommend visiting then. The Acadia National Park fall season is a favorite time to visit so you can see the gorgeous New England fall foliage.
What to Do with 2 Days in Acadia National Park
Wondering what to do in Acadia National Park? Wonder no more! There's a ton to do on an Acadia National Park weekend trip, so feel free to customize this as you prefer.
Park Loop Road
One of the most popular ways to see some of the most famous landmarks in Acadia National Park is by driving the park loop road, a 27 mile road that transverses the eastern part of Mount Desert Island. The road starts around the Hulls Cove Visitor Center, but you can access it from several different points in the park. Keep in mind it's one way in several sections, so plan accordingly!
Note: most of the park loop road closes during the winter months (beginning in December and going through April, depending on snow conditions.)
I recommend printing a map of the park (find one here) and marking the spots you'd like to stop at in order. Or just drive the road and stop anywhere that catches your eye! There's plenty of pull outs along the way, perfect for taking in the fall colors and beautiful ocean views.
If you're not bringing a car, the Island Explorer will also take you through the road. This is especially helpful during the summer months when parking can be difficult at some of the most popular attractions.
Watch the Sunrise At Cadillac Mountain
By far one of the most memorable experiences I've had at Acadia has been watching the sunrise at Cadillac Mountain, the highest peak on the eastern seaboard.
Front the summit of Cadillac Mountain you get breathtaking views of the Atlantic Ocean and the beautiful Porcupine Islands. Not only that, between October to March, Cadillac Mountain is the first place in the US to see the sunrise!
Even if you're not a morning person, do yourself a favor and wake up early to see the sunrise here – it's incredible, and something everyone should do even if you only have two days in Acadia National Park. Below are some tips and must-knows for seeing the sunrise at Cadillac Mountain.
Arrive early! Look up the sunrise time the day before and plan to be there at least 30 minutes early. If you're visiting on a weekend, plan to be here an hour to an hour and a half before sunrise. Parking fills up fast, so get there early to stake out your spot. This is a super popular spot, especially on weekends and holidays!
Factor in your driving time! It takes about 30 minutes from the Blackwoods Campground to reach the top of Cadillac Mountain, and about 20 minutes from Bar Harbor. You'll be doing the drive in the dark, up a windy mountain road, so take your time and don't rush!
Pack a jacket and warm clothes. Cadillac Mountain is way colder than most parts of the park, even during the summer months. I like to bring a heavy jacket, warm pants, and a scarf (to protect my ears from the wind). Bonus tip: bring a thermos with coffee or hot cocoa to stay warm. This hydroflask will keep your coffee nice and hot, and doubles as a water bottle for when you're hiking in Acadia National Park.
Bring a picnic blanket. Since you should be getting here early anyway, bring a picnic blanket for you to sit or lay down on while you wait for the sun to rise. Actually, bring two so you can snuggle!
Plan to stick around after sunrise. While most people will watch the sun rise and immediately head back to their cars, make sure you stick around and at least walk the Cadillac Mountain loop. You'll get incredible views of Mount Desert Island, the light will be gorgeous for photos, and you'll have a less crowded experience at Cadillac Mountain.
Enjoy Fresh Blueberry Pancakes in Bar Harbor
14 Mt Desert St, Bar Harbor, ME 04609
What better way to start the day after watching the sunrise at Cadillac Mountain than by enjoying some fresh Maine blueberry pancakes?
After leaving Cadillac Mountain, make your way down to Cafe This Way in Bar Harbor. You'll see yellow footsteps on the road marking the way towards the cafe. Follow them to find delicious breakfast food waiting for you at the end.
The best thing to get here are the blueberry pancakes. They're made with local Maine blueberries and they're AMAZING!
Other highly rated breakfast restaurants:
Sand Beach
Driving the park loop road, you'll find a nice stretch of sand known as sand beach, a beautiful little beach perfect for lounging around or going for a chilly swim.
Sand beach is surrounded by gorgeous rocky cliffs dotted with green trees. I love to dip my toes into the chilly water at Sand Beach and play in the waves!
Tips and things to know:
Amenities: there's a large parking lot with restrooms, changing rooms and water fountains.
Accessibility: the parking lot, restrooms and changing rooms are accessible, but there's a series of granite steps you have to take from the parking lot down to the beach.
Bring a picnic blanket and something to read and relax on the beach. If you plan to go swimming, bring a change of clothes in a daypack as well.
The Ocean Path Trail starts at Sand Beach. Look at the park kiosk by the parking lot for more information on hiking the ocean path trail.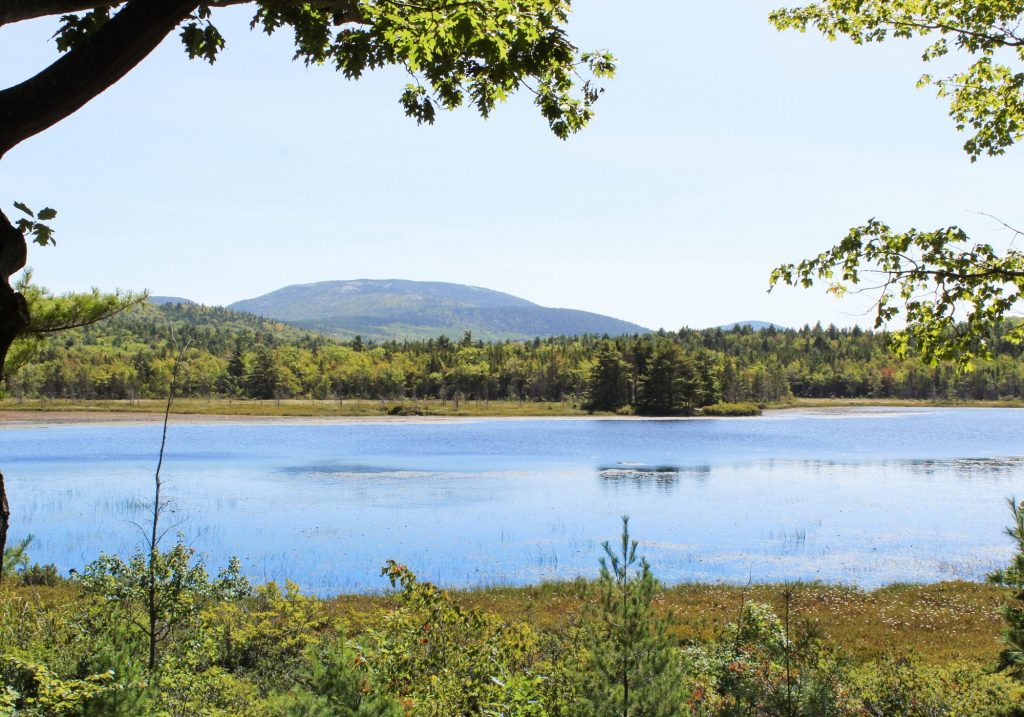 Walk the Carriage Roads
Acadia is a pretty well developed national park. There's 45 miles of paved carriage roads that were built by John Rockefeller Jr. back in the early 20th century. The miles of carriage roads crisscross the park, taking you to gorgeous ponds and lakes, and through stunning New England foliage in the fall months.
The roads are perfect for beginners to hike or bike through – they were built with gentle slopes and grades for carriages so any elevation gain is usually pretty gradual. Keep an eye out for the small carriage road bridges, and the wooden sign posts that point the way.
For an easy hike, start at the Hull's Cove Visitor Center. Head towards the sign that says "Carriage Trails". From there, you'll walk less than a quarter of a mile to a kiosk that has trail maps and do the short 3.3 mile loop hike on the carriage road to Witch Hole Pond.
Other tips:
Bring a reusable water bottle and take plenty of water on your hike.
Bring a sunhat. There's large trees and some shade along the carriage roads but anytime I'm hiking anywhere, I always bring a sunhat to create my own sun protection.
Slow down and enjoy the scenery. We saw dragonflies and trees starting to change colors into fall foliage along the carriage roads.
Jordan Pond
2928 Park Loop Rd, Seal Harbor, ME 04675
Jordan Pond is a beautiful crystal clear pond located in the middle of Acadia National Park, surrounded by stunning green mountains on either side, and standing directly in front of the Bubbles (mountains).
The pond is stunning at any time of day, the views as the sun goes down and the sky starts darkening are gorgeous. Keep an eye out for small frogs hanging out in the water, and skip some rocks while you're here.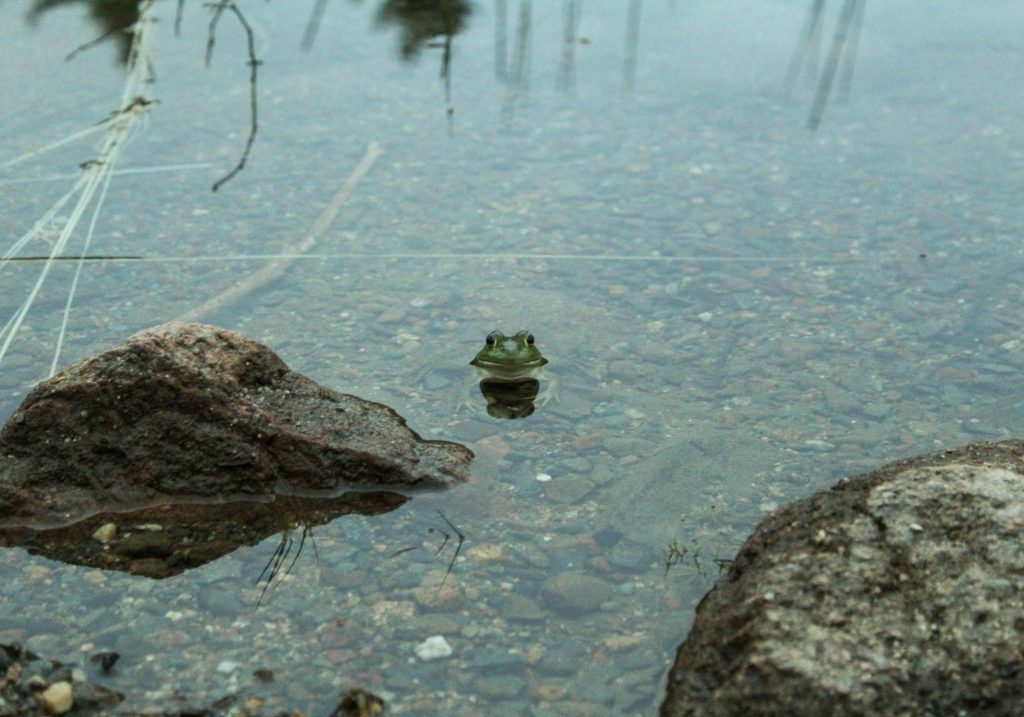 There's a restaurant here, Jordan Pond House (the only full service restaurant in the park) with indoor and outdoor seating. The views from the restaurant are beautiful, and it's worth having at least one meal here.
Other things to know:
Swimming is not allowed at Jordan Pond since it's a public drinking source, but kayaks and canoes are.
There's carriage roads accessible from Jordan Pond. Pick one for an easy, beautiful hike.
You can hike the easy 3.4 mile loop around the entirety of the pond if you're in the mood for it.
Try the popovers at Jordan Pond House. They're famous for them!
Ocean Path Trail
The Ocean Path trail provides stunning, picturesque views of the rocky Maine coast, and is a must do when visiting Acadia National Park.
The ocean path trail is a relatively flat 4.4 mile round trip hike that officially starts right off the Sand Beach parking lot (behind the bathrooms), but is easily accessible from several different pull outs along the park loop road. In fact, the trail runs parallel to the road for much of its length!
I recommend finding a pullout that has parking available and following the trail down to the water. You'll be greeted with jaw dropping views of the coast, mountains and cliffs. It;s a great spot to take pictures of Acadia – nature does all the work for you!
Things to know:
Start the trail at Otter Point if you can't find parking at Sand Beach;
You can do part of the trail and flag down an Island Explorer Shuttle to take you back to the Sand Beach parking lot;
Watch out for poison ivy along some parts of the trail;
You can see the sunrise from the trail to see the morning light play against the shoreline and light up the granite rocks in hues of pinks.
Wild Gardens of Acadia
The Wild Gardens of Acadia displays many different plants indiginous to the Acadia National Park area. There's thirteen different areas for different plant communities, all interconnected with brooks, ponds, bridges and benches along the way.
This is a great place for an easy stroll where you can be surrounded by nature. The Garden entrance is located by the Sieur de Monts Nature Center in Acadia, about 2 miles south of Bar Harbor. Parking here isn't too difficult, but the Island Explorer shuttle makes frequent stops here if you prefer to bus it.
Other things to know:
There's hiking trails nearby! While you're here, make sure you explore the Sieur de Monts area and stop at the nature center.
Visit between May to October, the Gardens are often closed during the colder winter months.
Bass Harbor Head Lighthouse
Probably one of the most photographed lighthouses along the New England coast, Bass Harbor Head Lighthouse stands proudly above the rocky Maine coastline.
This is a charming lighthouse that's on the National Register of Historic Places, and was first built in 1858. Bass Harbor Head Lighthouse is located on the western side of Mount Desert Island, about 40 minutes away from the Blackwoods Campground and most of Acadia.
Due to its popularity, finding parking at the lighthouse can be difficult, especially around sunset. There's a panoramic vista point, as well as sets of stairs that will take you down near the water (this is where the lighthouse is most often photographed from.)
Other things to know:
People live here, so be respectful! The lighthouse is still active and owned by the US Coast Guard. Be respectful of the family that lives here and follow all posted signs.
Sunset is the most popular time, and photographers often snag their spots long before then. Try visiting at a different time to avoid the crowds.
Be careful going down the rocks. You're close to the ocean, and the water can be unpredictable.
Stargazing
Even though Acadia is close to many little towns in Mount Desert Island, the park still provides an amazing opportunity for stargazing. We've camped at Acadia and saw beautiful dark skies with tons of stars out just from our campground!
A good way to enjoy the dark skies is to head over to Cadillac Mountain a couple of hours before sunrise and stargaze from there. Sand Beach is also another great location to watch the stars at night.
The Acadia Night Sky Festival takes place around the end of September most years, with a stars party at the summit of Cadillac Mountain during this time.
Other things to know:
You probably won't' see the northern lights from Acadia, but every now and then when conditions are right they do extend down to this part of Maine.
It gets really cold at night, so dress in warm clothing if stargazing;
Pack a picnic blanket or two if you're going to Cadillac Mountain or Sand Beach so you can stargaze in comfort;
Bring snacks and a hot beverage. This hydroflask will keep your drinks nice and hot, and doubles as a water bottle for when you're hiking around the park.
Sample Weekend 2 Day Itinerary: Acadia National Park
I start most weekend trips on Fridays. This sample Acadia national park 2 day itinerary below has you arriving in Acadia Friday afternoon and leaving Sunday early afternoon.
Friday afternoon (arrive in the park)
Watch the sunset over Jordan Pond
Have dinner in Bar Harbor, and explore downtown Bar Harbor.
Saturday
Watch the sunrise at Cadillac Mountain and walk the Cadillac Mountain Summit Loop trail;
Have breakfast in Bar Harbor;
Head back to the park and drive the Park Loop Road, stopping at Sand Beach, Otter Cliff, Otter Cove, Thunder Hole, the Wild Gardens of Acadia and Jordan Pond
Have dinner at Jordan Pond House and walk the Jordan Pond loop trail;
Stay late in the park for some stargazing, or head up to Cadillac Mountain to watch the stars;
Sunday
Do a short hike on the carriage roads to Witch Hole Pond, or explore the coast by hiking part of the Ocean Trail;
Go to Bass Harbor Head Lighthouse;
Head home.
Where to Stay Near Acadia National Park
Because the park is super close to Bar Harbor and other small communities in Mount Desert Island, there's plenty of places to stay near Acadia. If you're asking where to stay IN Acadia National Park as well, I've included some campground information below also!
AirBNBs, Hotels and Cabins in Acadia National Park
Here are some highly rated AirBnBs, Cabins, hotels and Bed and Breakfast's in Acadia.
Camping near Acadia National Park
There's camping in Acadia National Park as well as private campgrounds near the park. The main campground is Blackwoods Campground, located on the east side of Mount Desert Island. Staying here will put you closest to most park attractions.
There's also the Seawall Campground which puts you closer to Bass Harbor Head Lighthouse, but further away from most attractions in the park. On the mainland, there's camping at the Schoodic Peninsula, but if it's your first time and you're only doing a 2 day trip to Acadia National Park, I don't recommend you stay here.
Finally, for backpackers, there's primitive camping at the Duck Harbor Campground, located in remote Isle au Haut, accessed through a boat ride, no cars allowed.
For more information on campgrounds inside the park, click here.
If the park campgrounds are full, check out the following options:
So there you have it, how to spend 2 magical days in Acadia National Park. If you haven't visited Maine yet, add this to your bucket list. It's an incurable place to visit and see the beauty of the New England Coast.
Other National Parks and Monuments You'll Love
Save This for Later!
Planning your trip to Acadia? Save this post for later to your favorite Pinterest board!