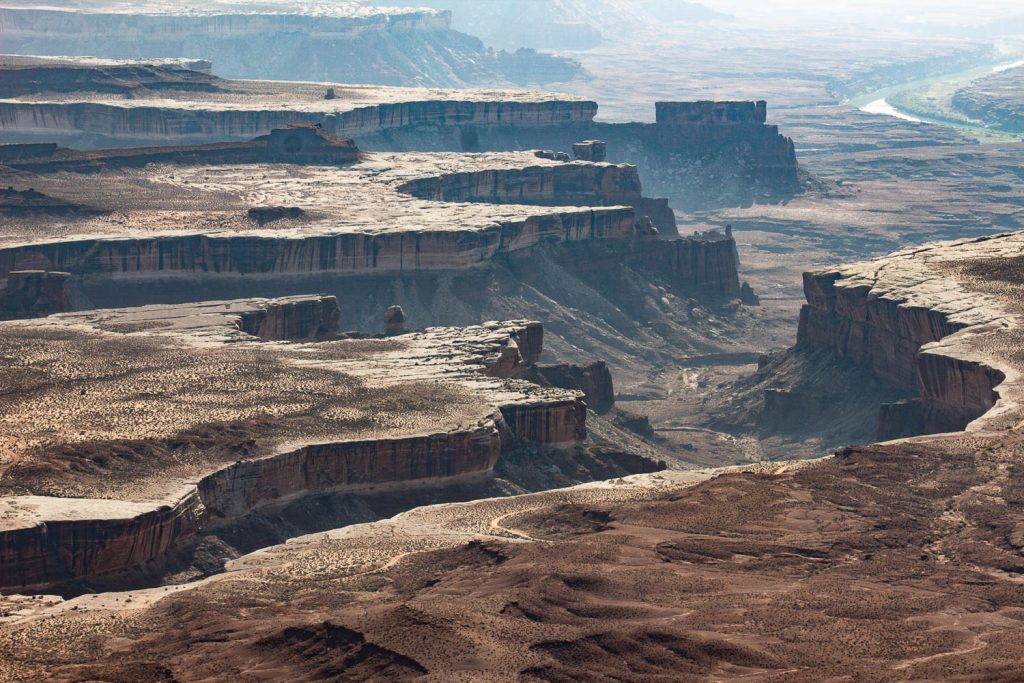 This post may contain affiliate links. This means I'll get a commission (at no extra cost to you!) if you purchase through my link. Please see my Disclosure page for more information.
Often forgotten, Canyonlands National Park is one of Utah's hidden gems. The park is incredible, and enormous in size. You could be here for a week and still only see a small fraction of it, but you can still appreciate and see the highlights with one day in Canyonlands National Park!
So what exactly makes this park so great? Canyonlands is made up of canyons and other stunning rock formations, slowly carved over time by the Colorado River.
The park offers miles of hiking trails, breathtaking viewpoints of sweeping vistas, four wheel exploring, dark skies, and so much more!
Visiting Canyonlands, I was overwhelmed by the sheer amount of adventures you can have in this park alone. There are four distinct districts to the park: Island in the Sky, The Needles, The Maze and the rivers. So how do you plan one single day in Canyonlands?
If your time is limited, I've included some of the things you must see at Canyonlands in this quick itinerary.
Have more time? Make sure you check out the information below for how to continue exploring this gorgeous national park!
Basic Information
Location: Located outside of Moab, Utah
Entrance Fee: $30 per vehicle, valid for 7 days
One Day in Canyonlands National Park
If you only have one day in Canyonlands National Park, you'll want to focus on visiting just one area of the park.
Canyonlands is made up of four districts, which are:
Island in the Sky: located about a 40 minute drive from Moab, Utah and has the most things to do for the average visitor;
The Needles: located about an hour and a half drive from Moab, in the opposite direction of Island in the Sky. Most hiking trails here are rated strenuous.
The Maze: super remote and difficult to access. Trails here should not be attempted by beginners.
The rivers: requires completely different planning than the other sections of the park, as you'd be spending your time on the water.
The Island in the Sky Canyonlands district is the most accessible district of all of them. Because of this, spending your day in this part of the park gives you the best bang for your buck.
Below is what your one day Canyonlands itinerary could look like!
Watch the Sunrise at Mesa Arch
Length: 0.5 mile round trip
Difficulty: easy
Approximate Time: 30 minutes for the hike, longer to watch the sunrise
Mesa Arch at Canyonlands has become quite famous for its stunning sunrise! The arch not only faces the La Sal Mountains, but frames them quite beautifully.
In the early morning light, the sun illuminates Mesa Arch and the landscape below and in front of it, making it a photographer's dream.
Because of this, Mesa Arch and its parking lot can get super crowded, with tons of people trying to snag that perfect shot of the sun rising through the arch.
To avoid some of the crowds, visit within an hour or so of sunrise, when the sun is still low enough to give a pretty morning glow.
You should know that Mesa Arch has a steep drop immediately behind it. While there's room to explore near the arch itself, please be careful.
After you're done with Mesa Arch, continue driving down the road, away from the visitor center for your next stop!
Candlestick Tower Overlook
Candlestick Tower overlook is one of those "blink and you'll miss it" stops. The overlook isn't signed, isn't on the official Canyonlands map, and doesn't have a formal parking lot – just a pullout spot along the road.
But, you won't find many people here, and you'll be rewarded with gorgeous views of a rock formation that looks like a tall candlestick protruding out of the canyon on your right.
It's only about a mile between this overlook and Mesa Arch, it's soon after you pass the road for Upheaval Dome. Keep your eyes peeled!
Note: there's no railing and no formal trail to explore this overlook. As always, be careful when approaching the edge of cliffs and canyons.
Buck Canyon Overlook
Next on the list of pretty panoramic views at Canyonlands is the Buck Canyon Overlook.
The parking lot is pretty small, and you'll need to do a super short walk to get to the actual viewpoint.
For not a ton of effort you'll be rewarded with really pretty and expansive views of the canyon and mesas, some of the best of Canyonlands. What else could you ask for?
White Rim Overlook
Length: 1.8 miles round trip
Difficulty: easy
Approximate Time: 1.5 hours
After leaving the Buck Canyon Overlook, continue driving on Grand View Point road until you get to the parking lot for the White Rim Overlook.
Here, you'll find the trailhead for the White Rim Overlook, which will take you to expansive views of the canyons, with mountains in the background.
The coolest part about the view from here is being able to see the White Rim Road and seeing the cars that look like ants as they make their way down in the canyon.
Note that parking is limited. There's also picnic tables with some privacy here, making this a good place to stop and enjoy a meal or snack.
Optional: Gooseberry
Length: 5.4 miles round trip
Difficulty: strenuous
Approximate Time: 4-6 hours
This trail begins at the same place as the White Rim Overlook, but descends down over 1,400 feet, making it super strenuous.
While not for the average visitor, this trail is an option if you're looking to do a longer hike in Canyonlands.
Grand View Point Overlook
At the end of Grand View Point Road you'll come to the viewpoint the road is named after, and which many consider one of the best in the park.
Grand View Point is definitely stunning, and the views are spectacular. You'll be able to see views of the canyon and rock formations below, and the mountains to your left.
This is definitely worth the stop and one of the places to start if you have limited time, like only a half day in Canyonlands National Park.
Optional: Grand View Point Hike
Length: 2.0 miles round trip
Difficulty: easy
Approximate Time: 1.5 hours
This easy hike will give you even more views of the natural beauty in front of you at Canyonlands.
Start from the Grand View Point Overlook and take the trail to your right. Note, this trail can be super popular!
Green River Overlook
After you've explored Grand View Point, head back on the road towards the Visitor Center for a bit less than 6 miles.
On your left, you'll come across Upheaval Dome Road. Take this road and then turn left into Green River Overlook Road. There should be road signs along the way pointing you in the right direction!
Once you pass the campground, at the end of the road, you'll come across the Green River Overlook. This pretty view point gives you views of the canyon carved below by the Green River.
Optional: Aztec Butte
Length: 2.0 miles round trip
Difficulty: moderate
Approximate Time: 1.5 hours
Right after you get back on Upheaval Dome Rd after leaving the Green River Overlook you'll see a large rock formation, called Aztec Butte.
The trail takes you in two directions: climbing upwards Aztec Butte for gorgeous views, or to two ancestral Native American granaries.
Upheaval Dome
Length: up to 1.8 miles round trip
Difficulty: moderate
Approximate Time: up to 1.5 hours
Upheaval Dome is strange, colorful, and remains a mystery to scientists. This weird rock depression in the ground is pretty large and cool, with bands of red and white. Upheaval Dome can definitely be considered a contender for Canyonlands National Park best hikes!
There's two overlooks to see the Upheaval Dome. To get to the first overlook, you'll need to climb up a short but steep trail for about 0.4 mile (one-way).
To get to the second overlook, you'll continue for about half a mile past the first overlook, hiking over slickrock and following the cairns.
While some people recommend you hike all the way to the second overlook, if you're short of time you can save the time and instead do one of the other hikes on this itinerary.
Optional: Whale Rock
Length: 1.0 mile round trip
Difficulty: moderate
Approximate Time: 1 hour
Near Upheaval Dome you'll see a big rock formation that looks like a whale – this is called whale rock! There's a short trail that lets you climb up the rock and get good views of Canyonlands.
Shafer Canyon Overlook
After you've explored Upheaval Dome Road, turn back left into the main road of Canyonlands to head back towards the visitor center.
When you're close to the visitor center you'll see a sign on the road pointing you towards the Shafer Canyon Overlook.
There's a small parking lot, and you'll need to walk a bit to the viewing area, but I really liked the views here and definitely recommend the stop.
Quick One Day in Canyonlands National Park Itinerary
Short on time? Save this post or screenshot this quick Canyonlands National Park itinerary for an unforgettable day!
See the sunrise at Mesa Arch;
Stop at the viewpoints along the main roads in the park, including Candlestick Tower, Buck Canyon, White Rim, Grand View Point, Green River, and the Shafer Canyon Overlooks;
Hike Whale Rock or Aztec Butte
Best Time to Visit Canyonlands
The best to visit Canyonlands would be in the late Spring or early Fall months. Not only will you have better weather, you're also likely to encounter fewer crowds.
Summer months in Canyonlands can be scorching hot, and winters pretty cold. The weather starts to cool down in late September/early October, and warms up in April.
We visited in early October and the weather was generally nice and cool for hiking, even in the middle of the day.
Tips for Visiting Canyonlands
There's almost no cell service in the park
Pack a lunch, there are no restaurants in Canyonlands.
Bring plenty of water, especially if you're doing a hike. There's almost no shade on most of the trails at Canyonlands, and it can get super hot, especially in the middle of the day. Always come prepared!
Wear appropriate footwear when hiking. A lot of the trails in Canyonlands have you walking over slickrock, which can get, well, slick and slippery. Invest in a good pair of hiking boots, you won't regret it.
What to Pack for Canyonlands
Where to Stay When Visiting Canyonlands National Park
The closest town to Canyonlands (and Arches) is the town of Moab. Thankfully, Moab has some amazing Airbnb's and hotels for you to choose from, including the below:
For hotels, you have tons of options, including the Hyatt (which is super close to Arches, if you're visiting that park as well). Other options include the Homewood Suites, and the Hoodoo Moab (a luxe option!)
READ NEXT: how to spend one day in Arches National Park
FAQs
Can you do Canyonlands and Arches in one day?
Yes, in the summer months but I don't recommend it. Not only will you have a super long day, but you just won't get to see and enjoy these parks.

Honestly, if you have only one day, choose one park to explore to get the best experience.

I have an Arches one day itinerary if you want to compare the two parks and figure out which one you'd rather visit.
Which part of Canyonlands is best?
The Island in the Sky District is the most accessible one, and the best option for most people visiting Canyonlands.

The Needles and The Maze (and the rivers!) all look super cool, but require more time to explore, and have limitations (like backcountry only access) that make them less feasible for most people to check out.

How much time do you need to see Canyonlands National Park?
Half a day, if you're not into hiking. For the best experience, budget a full day for Canyonlands National Park.
Can you drive through Canyonlands National Park?

The different districts in Canyonlands are not connected by paved roads, so you cannot drive through Canyonlands in that sense, you have to go around.
Should I go to Arches or Canyonlands?

Both! Arches is my favorite national park in Utah, but it's small and gets crowded. Canyonlands has less to do for the average person, but fewer crowds.

I will say, if you're the kind of person who's unimpressed by the Grand Canyon, you'll probably have a better time at Arches.
Other Posts You'll Love
This Canyonlands things to do and itinerary post are part of my series on exploring all of Utah's national parks. Check out the following posts for more Utah travel inspiration!
Save This for Later!