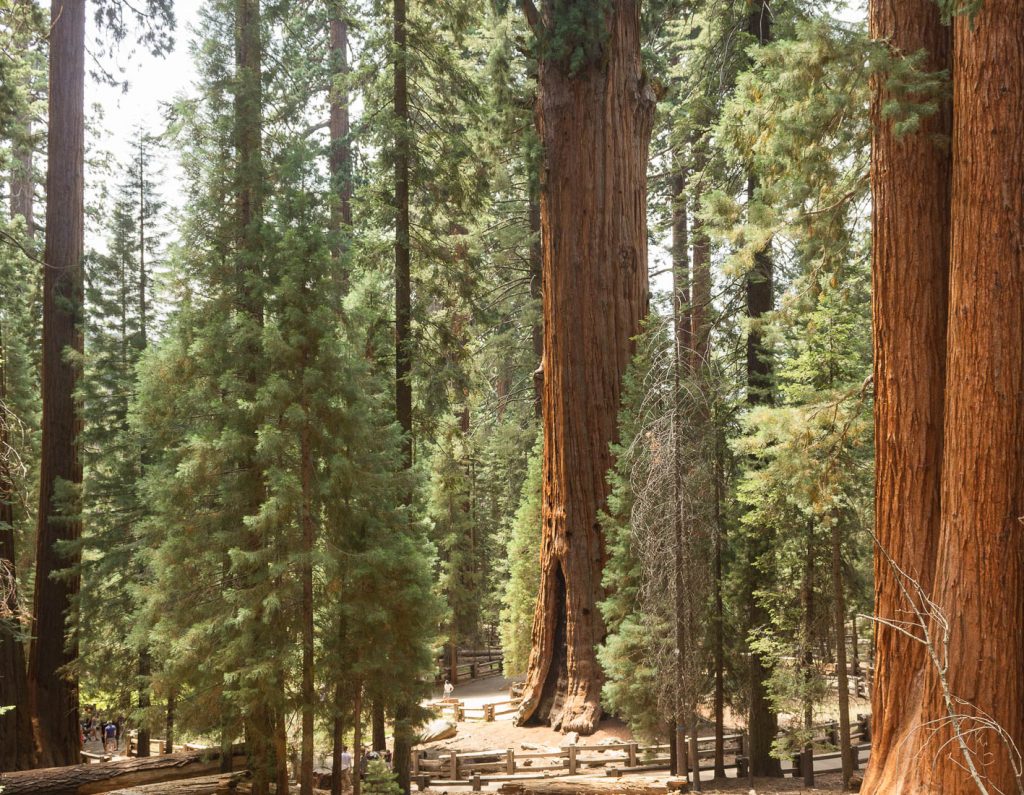 This post may contain affiliate links. This means I'll get a commission (at no extra cost to you!) if you purchase through my link. Please see my Disclosure page for more information.
Sequoia National Park is a super cool yet underrated National Park in California. It often gets lost in the shadows of Yosemite, but this park is STUNNING, and absolutely worth visiting!
Sequoia is located about four hours northeast of Los Angeles in central California, at the foot of the Sierra Nevadas. It's an easy drive from Los Angeles!
Looking for an easy weekend trip from Southern California? You can easily spend one day in Sequoia National Park!
When visiting Sequoia, you'll get majestic, giant trees, beautiful meadows, creeks, and the splendor of being in the Sierras. While I wish I spent more time in the park, our Sequoia National Park day trip was full of beautiful views and unforgettable hikes.
Below you'll find my recommendations for what to see in Sequoia National Park in one day!
See the Giant Forest
The Giant Forest area of Sequoia National Park will leave you in awe. The Giant Forest is a large grove of sequoias, characterized by the large number of trees in the area that stand hundreds of feet tall.
With only a day in the park, spending a day in the Giant Forest is the best way to really experience the park. The Giant Forest is home to General Sherman, Moro Rock and the Crescent Meadow.
There's also several different hiking trails that will allow you to get up close and personal with the sequoias and truly appreciate their magnitude.
You'll know you're in the giant forest when you start literally being surrounded by giant sequoias along your drive. I've included more information on a couple of the best attractions in the Giant Forest, but you really can't go wrong with simply picking a trail and exploring it.
General Sherman Tree
Did you know that Sequia is home to the largest tree in the world? General Sherman, as it's called, is HUGE.
I've spent my fair share of time exploring the redwood forests, but General Sherman is unlike anything I've ever seen. The tree stands about 275 feet tall, and has a circumference of over 100 feet at its base. Pictures can't really do this tree justice, it's something that you just have to witness for yourself when visiting Sequoia National Park.
To get to General Sherman, you have to do a short hike through the forest of giant sequoias. There's a parking lot for the main trail that will take you up close and personal with General Sherman, about half a mile one-way. The hike is pretty easy and mostly downhill, but because you're at a higher altitude, you may find it more difficult than normal.
Along the way to General Sherman you'll find many other giant sequoias that create a shady path. It's worthwhile to stop along the way and take in the forest views. We kept asking ourselves if each tree we saw was General Sherman, but you'll easily recognize it when you get there!
There may be a line for people to get their photo taken in front of the tree. You can avoid the line and simply walk around the tree and appreciate the view.
Note: there is accessible parking for those with disabled placards along the Generals Highway. Check out the National Parks website for additional information.
Congress of Giants
Located near the end of the main trail to General Sherman, you'll find the Congress of Giants trail. This trail is a paved, 2 mile loop that will take you through the forest and allow you to see some other incredible, giant sequoias in a short distance.
We didn't have enough time to take this trail when we visited, but from everything we've heard, this is a pretty easy trail. Most people turn around at General Sherman – we actually saw very few people taking this trail. If you're looking for a more peaceful stroll through the forest, this is a good option.
Moro Rock
Moro Rock is a super short but steep hike that takes you to a spectacular view of the park. You'll climb a total of 400 steps (0.6 half mile) roundtrip from the parking lot up through a giant granite rock that overlooks the valley and mountains in the distance.
I huffed and puffed my way to the top of Moro Rock, and while it was difficult, the views were stunning!
From the beginning of the climb you'll immediately start seeing a gorgeous view in the distance. The view stays consistent all the way to the top, but each turn will point you in a different direction and you'll catch a view of the river on one end, and the mountains on the other.
Making it to the top is worth it for a picture, but you'll get similar views earlier in the hike. If you find it difficult, you're not missing much by only doing a bit of the hike.
Tips: Wear sunscreen, a good hiking hat, and bring plenty of water! There's almost no shade along the way, and the sun can be brutal in the middle of the day.
Tunnel Log (Auto Log)
If General Sherman isn't enough to illustrate the size of these trees, there's a giant sequoia on its side that cars can drive through. Tunnel Log is located right near Moro Rock, and is a popular stopping point for photos.
Check the park restrictions for when you're able to drive through the log. We were able to drive through on a Saturday since the shuttle wasn't running, but during normal times you're usually only able to drive through on weekdays.
A long line usually forms to go through the log and get a picture. If you're continuing on to Crescent Meadow you can usually bypass the line but you'll be stuck in it on the way back (so maybe plan to get your photos when you return.) We saw a lot of people walking on the log itself and getting photos as well.
Crescent Meadow
If you love a pretty meadow, you'll love Crescent Meadow. This is a quiet, beautiful meadow located a few minutes drive from Moro Rock, just follow the signs.
There's a pretty large parking lot for the meadow, with bathrooms and picnic tables. The meadow is surrounded by large sequoias, which contrast beautifully with the greens and yellows found in the meadow.
If you're up for it, there's a 1.5 mile loop walk that you can take around the meadow. Depending on the season, you may be able to spot deer, butterflies, and other wildlife.
The picnic tables at the meadow sit nestled among the sequoias, and are a great place to have lunch. We stopped here after wandering around the meadow and it was a super shady, cool spot in the middle of the afternoon sun.
Need to Know Before You Spend One Day in Sequoia National Park
There's a couple of must-know information you should be aware of if you plan to visit Sequoia National Park in one day – I've compiled all the must knows, below!
Park Entrance Fee
There's a $35 per car entrance fee to Sequoia. The pass is valid for 7 days and will also get you into Kings Canyon. You can buy the pass at the park entrance when you arrive!
Hot Tip: If you like visiting National Parks, I strongly recommend you buy an annual National Parks Pass. For $80 you'll get free admission into all the national parks you'd like to visit for a year. I really can't recommend this enough!
Weather
The weather in Sequoia is similar to that in Yosemite. The summers can get hot, winters get really cold with plenty of snow.
When hiking among the giant sequoias, you should keep in mind that the weather can significantly cool off (the groves of sequoias have so.much.shade!)
In the fall (starting around September) the summer heat starts to dissipate with the weather becoming a bit more cool, especially at night.
Rain and snow are common in the fall, winter and spring. Heavy snow can close roads in the winter, so make sure you check out park road conditions ahead of time!
Altitude
The altitude at Sewauoia and Kings Canyon National Parks ranges from a little over 1,300 feet to almost 15,000 feet in elevation. If you're not used to being in high elevation, keep in mind that hiking can be more strenuous here. Take your time acclimating, and take the elevation into consideration if you're planning to hike in the park.
Entrance Stations
There's two main park entrance stations, the Big Stump entrance and the Ash Mountain entrance. Because Sequoia and Kings Canyon are connected, entering through either station will get you to both parks.
The Ash Mountain station is close to Three Rivers, CA, and will put you closer to the Giant Forest and most of Sequoia. The Big Stump entrance drops you into Kings Canyon National Park, and puts you about an hour to an hour and a half away from the Giant Forest.
We entered through the Big Stump entrance because it was closest to our AirBnB. We drove through Kings Canyon and Sequoia National Forest and finally into Sequoia National Park and doubled back at the end of the day.
If you'd like to visit both parks in a day, plan to enter through one station and exit out the other so you're not backtracking too much.
Gas Stations
There's no gas stations in the national park itself, however, there is a gas station in the Sequoia National Forest. Our AirBnB was super remote, so we stopped for gas in the National Forest after entering through the Big Stump station.
However, it's always a good idea to start your day with a full tank of gas. The roads in both Kings Canyon and Sequoia are pretty windy, and you gain a ton of elevation, so you're likely to burn through your gas more quickly than you'd think.
Visiting Kings Canyon National Park
Because Sequoia National Park connects to Kings Canyon, you could visit both on the same day. To accomplish this, you'll want to start really early and plan to end your day fairly late.
If you start with Kings Canyon, enter through the Big Stump entrance and head to the Grant Grove area. Here you'll find several hiking trails, including the short hike to General Grant Tree. Fun fact: in 1926, the park was proclaimed the USA's national Christmas tree!
From the Grant Grove area, drive the Kings Canyon Scenic byway to get views of the park. Budget several hours of driving and getting out of the car for plenty of photos!
Drive back the way you came from and make your way through the national forest to Sequoia. You can exit through the Ash Mountain entrance into the town of Three Rivers.
Tips for Visiting
Expect large crowds in Sequoia, especially in the summer. Parking lots often fill, and popular attractions can get crowded. Try to avoid weekends!
Bring plenty of sunscreen. Certain parts of the parks are fully exposed to the sun (like Moro Rock!) This is my favorite sunscreen – it's eco-friendly, smells like coconuts, and doesn't leave you with a white residue!
Keep a small roll of toilet paper and hand sanitizer in the car. The bathrooms at Moro Rock were super gross when we visited, and one of them was out of TP. Having these two essentials in my car has helped me avoid long bathroom lines, and keep my hands germ-free!
There's limited cell service in the park! Download some offline maps ahead of time for when you inevitably lose cell service!
The roads can be super windy. Drive carefully and enjoy the scenery!
Where to Stay
There's plenty of places to stay when you're planning a trip to Sequoia. The town closest to the Ash Mountain entrance (the main Sequoia entrance) is Three Rivers, California – honestly this is probably the best place to stay when visiting Sequoia and Kings Canyon. There's a ton of AirBnBs in the area to suit any budget. Some amazing ones include the following:
If you plan to spend more time in Kings Canyon, you'll want to stay closer to Pinehurst, California. There's fewer rental properties in Pinehurst than in Three Rivers, but there are still some hidden gems like these ones:
A personal favorite for me is this AirBNB in Badger, California. The house is stunning, gives you complete privacy, and is an absolute bargain. Plus, the host leaves breakfast AND snacks for you! Staying here will put you about 45 minutes from the Big Stump entrance to Kings Canyon – it's bit of a drive, but absolutely worth it!
What to Bring
I practically live in leggings and breathable, flowy t-shirts, and it's no different when I'm out in a national park! Below are some recommendations on what to wear on your day trip to Sequoia, as well as useful things you'll want to bring with you.
Hiking Hat: this is the one I have, and I love it. It's super affordable and goes with pretty much anything. I never regret having my hat on me, but I do regret not bringing it with me when I'm outside.
Reusable water bottle: I've had this water bottle for years and love it! My boyfriend usually brings one like this to keep our water cold, it's great!
Hiking boots: I'm in love with this brand. I wore a similar pair of boots to these ones on a 10 day hiking trip in Utah and my feet didn't hurt like they usually do.
Wool socks: These are hands down, the BEST socks for hiking. I have a couple of pairs and they have saved my feet from plenty of blisters. Buy them, seriously, you won't regret it.
Sunscreen: This is my favorite brand, and the best sunscreen in my opinion. Smells great, doesn't leave a gross residue, and protects you from the sun. This is what I bring with me to Hawaii, and what I use at home to remind me of my days there.
Lip balm: This is optional, but highly recommended. Get this lip balm with SPF and keep your lips moisturized and protected from the sun.
Backpack: One of the best investments I've made has been a hiking backpack to carry my camera and everything else when I visit national parks. Get one like this one!
Snacks: Our Airbnb host left us some of these KIND bars and they were great for our hikes in the park. Pack plenty of snacks for your trip!
Hand sanitizer: keep your hands clean, especially in these weird times. Try this one.
Clothes: get some hiking shorts or leggings, some breathable shirts, and a lightweight sweater or jacket.
Ready to Start Planning Your Trip?
Even if you have a limited schedule, you can still have an amazing time in Sequoia and Kings Canyon National Park. This is a stunning part of California that everyone should visit at least once.
Save This for Later!
Looking for More National Parks?
While you're in California, check out Joshua Tree National Park for some stunning desert scenery.
Wanting to hit the beach? Check out San Onofre in San Diego County, it's gorgeous!